Launchpad – New website for national veterans' charity
Category: Communications, Public Relations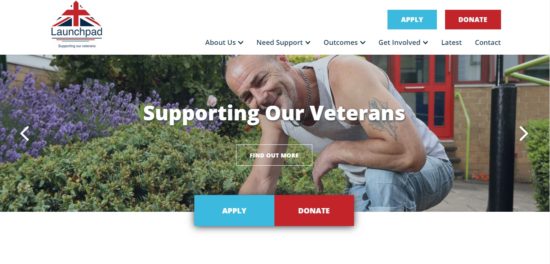 Despite the current pandemic and lockdown, we've still been busy working on some key projects for clients. One of those was the development and launch of a new website for national veteran's charity Launchpad.
We support them with national and regional PR and comms and one of our main projects has been the redesign and relaunch of their website.
Launchpad is the largest residential charity for veterans in the north of England. They provide accommodation and targeted support, with the assistance of specialist providers, to help homeless veterans stabilise their lives and make a successful transition from military to civilian life.
Since 2013, Launchpad has supported over 460 homeless and unemployed veterans at its houses in Newcastle and Liverpool with almost half of those securing paid employment and 60% moving on to long-term, settled accommodation.
For most veterans and referral agencies, the website is considered as one of the first points of contact and an important resource for people and organisations to find out more information about the charity and how they can support them via donations, fundraising and volunteering.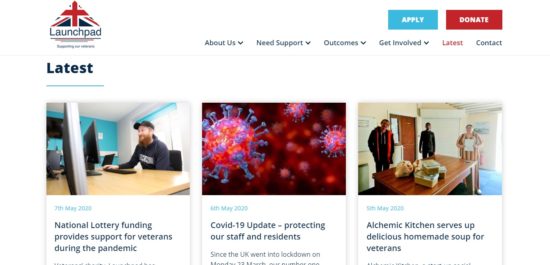 We facilitated the full production of the new site providing all the copy, co-ordinating imagery and provided advice on the general design, look and feel. We engaged with partners, staff and residents to gain their feedback and ideas of what experience they would like to have from the website.
The new site has been designed to provide visitors with better functionality and to quickly and easily navigate and access the information they are looking for. This is particularly important, especially for the veterans themselves if they apply to live in one of the houses.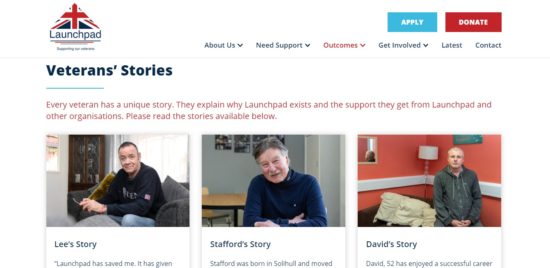 What is also heart-warming is all the individual stories of veterans who have been/are living in one of the houses. Their stories are poignant, highlighting their military background, putting their lives on the line to fight for our country and telling us their story and journey of how and why they found Launchpad. More importantly, it highlights how they have benefited from the support that has been provided and hopefully, resonates with other homeless veterans who could benefit from this fantastic charity.
David Shaw, CEO and Co-founder of Launchpad, said:
"Our website is one of our most important communications channels and serves two purposes, how veterans can apply to be a resident and how anyone can support us by making a donation.

"The new website needed to be clean, easy to navigate and accessible. It is another great project that has been delivered by Craig at Up North Communications for us. His commitment and professionalism throughout has been spot-on."